2015 EVENTS
2015 EVENTS
"STILL MOSCA"
A tribute to Angelo Mosca was held on Wednesday, August 26th at Carmen's Banquet Centre.
Host Mike Bullard joined sportscaster Brian Williams and a host of celebrities and athletes as they paid tribute to a true Hamilton Legend.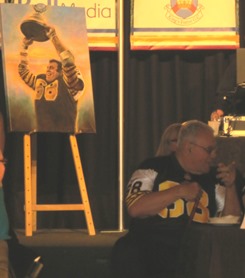 The following evening the Club held a special half-time ceremony to retire Angelo's #68.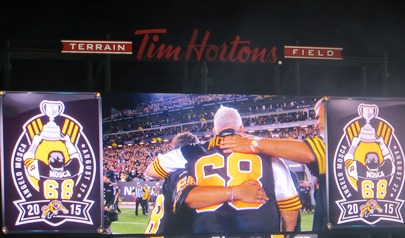 WALL OF HONOUR DINNER

There is no inductee this year, thus we have postponed our next induction dinner to Fall 2016.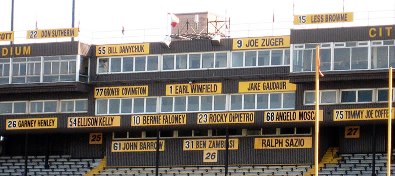 WALL OF HONOUR SIGNS FOR SALE!
If you're a big Ti-Cat fan, here's your chance to get a big piece of authentic Tiger-Cat Alumni memorabilia.
For sale are the ORIGINAL Wall of Honour signs that were displayed on the press box at Ivor Wynne stadium.
Signs measure 3' high and length depends on each name. Signs are available for purchase at our ebay store Pick-up only
CANADIAN FOOTBALL HALL OF FAME
INDUCTION WEEKEND
This years Induction weekend wasl held August 19th-22nd in Saskatoon and Regina. Please visit www.cfhof.ca for more information.
30TH ANNUAL ALUMNI GOLF TOURNAMENT

The Tiger-Cat Alumni hosted their 30th annual golf tournament on Monday, May 25th at MontHill Golf Course in Caledonia. The tournament was a near sell-out as many fans joined dozens of Alumni on hand for a beautiful afternoon of golf.

Among Alumni on hand were current Alumni President Dave Richardson and past President Terry Lehne, Leo Ezerins, Bob Krouse, Dave Marler, Dave Sauve and Mike Philbrick
WALK OF FAME DINNER
The Cats Claws Fan Club  hosted their annual Tiger-Cat Walk of Fame dinner on Wednesday, May 21st at Carmen's Banquet Centre.

This year, DL Mike Philbrick was inducted into the Walk of Fame. The Charlotte Simmons award was presented to Mike Filer.

A crowd of over 200 took in the evening's events and speeches. Former Tiger-Cat DL Mike Campbell and coach Dennis McPhee were on hand to make presentation speeches
MEMORABILIA
MEMORABILIA

The Tiger-Cat Alumni are on a quest to collect "Team Memorabilia". We would like to display it on the web-site. Currently we are looking for "Team Pictures" and "Grey Cup ticket stubs".
We are also looking for "Game Program Covers" to complete the set on our web-site. If you have any programs from the past, please scan the cover and name the file with the year and opponent and email to admin@htcaa.ca
We are are also looking to collect items that you may want to lend or donate to the Alumni Association to put on display in the "Alumni Room" inside the new stadium.
If you have anything you feel may be of interest, please contact us at admin@htcaa.ca
COMMENTS & PHOTOGRAPHS
COMMENTS & PHOTOGRAPHS

Share for your favourite Tiger-Cat memories or photos here on our site.
Tell us about a game, a play, an encounter or send us your personal Tiger-Cat photo and we might post it in the fan submission section on our site.
Comments open to fans and players.
MEMBER NEWS
MEMBER NEWS
MEMBERSHIP ONLINE
Alumni can now register or renew their membership online with Pay Pal. You can pay via credit card or through your bank account. Pay/Register here.
ALUMNI ROOM DONATIONS
Members, you can make your donation to our new Alumni room online using PayPal. Donations can be made by credit card or withdrawn directly from your bank account.
Please access our membership page to make your donation.
TIGERTALES NEWSLETTER

The official newsletter for the Hamilton Tiger-Cat Alumni and fans. It's filled with news, events and fun information about the Association and its members. It is available for viewing online. Be sure to check it out!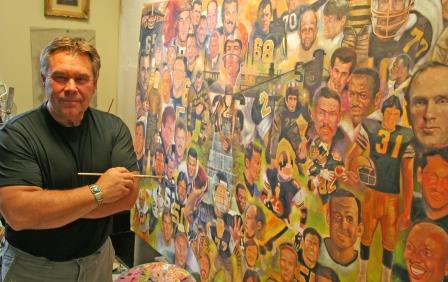 The Alumni have partnered with a renowned sports artist Gary McLaughlin to recognize 75 of the best players to wear a Hamilton uniform.
The painting depicts all of those players inducted into the Hall of Fame Wall of Honour, the Walk of Fame and the recently named All-time team."
In recognition of the 145th consecutive season of football in Hamilton, there is a limited edition set of 145 high quality prints available for purchase. Each print is individually signed by 26 Alumni depicted in the painting.
This the ultimate Tiger-Cat Collectors item! Prints sell for $150 and are available for purchase online and at the Tigertown store at 1 Jarvis St..
Poster of print alone are now also available for only $20.
Get yours today!
LAST GAME AT IVOR WYNNE
Saturday, October 27th 2012 marked the last Tiger-Cat game at Ivor Wynne Stadium. To commemorate the event, almost 40 Tiger-Cat Alumni present at the game signed this special framed matte.
We inserted a photo from the actual game and marked it with the date and final score to create this treasured keepsake.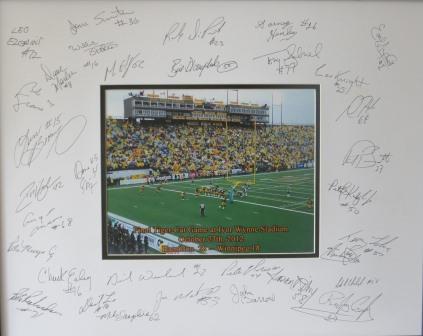 Prints measure 16" x 20" to easily fit inside your own frame of choice. Posters can be purchased for $20 at the Tigertown store, 1 Jarvis St.
PERSONAL PROFILES
Alumni, please log into the members section of the website and complete your Personal Profile.
It gives you the opportunity to record memories of your playing career and to up-date us on what you have done post career. Complete profiles will be posted on the web-site for all fans to enjoy.