2013 EVENTS
2013 EVENTS
28TH ANNUAL ALUMNI GOLF TOURNAMENT
Our annual tournament is fast approaching and is open to both Alumni and fans. It's a great chance to have lots of fun and meet some players from the past.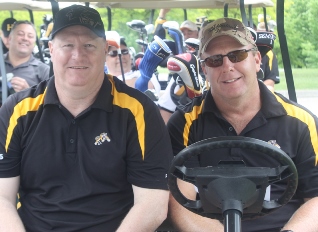 This years tournament takes place on Tuesday, June 11th at Sundrim Golf Course in Caledonia. Registration is only $160 and includes, lunch, steak dinner and lots and lots of prizes! Click here for more information.
WALL OF HONOUR

This years Wall of Honour dinner will be held on Thursday, October 24th at Carmen's Banquet Centre.
There will be a very special ceremony at this years event. Check back for more details and ticket information.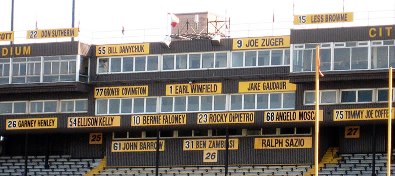 WALL OF HONOUR SIGNS FOR SALE!
If you're a big Ti-Cat fan, here's your chance to get a big piece of authentic Tiger-Cat Alumni memorabilia.
For sale are the ORIGINAL Wall of Honour signs that were displayed on the press box at Ivor Wynne stadium.
Signs measure 4' high and length depends on each name. Signs are available for purchase at our ebay store Pick-up only
WALK OF FAME DINNER
The Cats Claws Fan Club will be holding their annual Tiger-Cat Walk of Fame dinner on Friday, May 24th at the Renaissance Banquet Centre (Barton & Nash)
This years inductee into the Walk of Fame is WR Andrew Grigg. The Charlotte Simmons award will be presented to both Peter Dyakowski and Ryan Hinds.
Tickets are just $65. Visit the Cats Claws website for tickets and more information.
CANADIAN FOOTBALL HALL OF FAME INDUCTION WEEKEND
The Canadian Football Hall of Fame & Museum will hold its' annual induction ceremonies in Edmonton the weekend of October 3rd - 5th.
This years inductees include former Tiger-Cat All-Stars WR/KR Earl Winfield and OL Miles Gorrell.
For more information and tickets, visit the CFHOF website.
The new inductees brought the total Hall of Fame membership to 264

CFHOF GOLF TOURNAMENT

The Hall of Fame will once again be hosting their annual tournament this summer at Glen Abbey in Oakville. Check the CFHOF web-site for more information.
MEMORABILIA
MEMORABILIA
The Tiger-Cat Alumni are on a quest to collect "Team Memorabilia". We would like to display it on the web-site.
We are are also looking to collect items that you may want to lend or donate to the Alumni Association to put on display in the "Alumni Room" inside the new stadium.
If you have anything you feel may be of interest, please contact us at admin@htcaa.ca
We are also looking for "Game Program Covers" to complete the set on our web-site. If you have any programs from the past, please scan the cover and name the file with the year and opponent and email to admin@htcaa.ca
COMMENTS & PHOTOGRAPHS
COMMENTS & PHOTOGRAPHS

Share for your favourite Tiger-Cat memories or photos here on our site.
Tell us about a game, a play, an encounter or send us your personal Tiger-Cat photo and we might post it in the fan submission section on our site.
Comments open to fans and players.
MEMBER NEWS
MEMBER NEWS
ALUMNI LOUNGE FUND
Attention Alumni, we are now fund raising for our new Alumni Lounge for the 2014 season. The lounge will be inside the stadium and will be a great place for all Alumni to mix and mingle and enjoy the game.
We are committed to making it the best Alumni Lounge in the CFL. Funds raised will go towards furnishing and decorating the lounge. You can make your donation right online or contact us at here.
MEMBERSHIP ONLINE
Alumni can now register or renew their membership online with Pay Pal. You can pay via credit card or through your bank account. Register here.
PERSONAL PROFILES
Alumni, please log into the members section of the website and complete your Personal Profile.
It gives you the opportunity to record memories of your playing career and to up-date us on what you have done post career. Complete profiles will be posted on the web-site for all fans to enjoy.
IN MEMORIAM


ALUMNI MOURN LOSS OF ART DARCH
We are sad to announce the passing of Past Alumni President Art Darch, peacefully at his home on Tuesday, April 2nd at the age of 81. Art was an originating member of the Alumni and long-time member of the Executive Committee.
Art Darch was an excellent athlete, and besides playing football was a standout at Track & Field. Art actually turned down a Track & Field Scholarship at Michigan to play football. He joined the Tiger-Cats in 1952 and was quickly a starting Offensive Guard. He remained with the Tiger-Cats through the 1958 season. He missed the 1959 season due to injuries, but came back to play two seasons for the Toronto Argos in1960 and 1961.
Art was a tireless volunteer and in 2012 he was among the first recipients to receive the Hamilton Tiger-Cat Alumni Associations "Award of Distinction" for Recognition of His Outstanding Contribution To Community Groups and the HTCAA.
A memorial celebration of his life will take place on Saturday April 20th at Smith's Funeral Home - 1167 Guelph Line in Burlington (north of the QEW) From 3 until 6 pm
Alumni who have passed away in 2013
Bruce Smith
Len Chandler

OTHER CFL NEWS
OTHER CFL NEWS
2013 TIGER-CAT SCHEDULE
The Hamilton Tiger-Cats have announced their 2013 schedule. The Club will be playing its' home games at the University of Guelph while our new stadium is being built.
The team kicks off its' regular season schedule on June 28th in Toronto and will also be hosting a game in Moncton on September 21st when they host the Montreal Alouettes.

GREY CUP
The 101st Grey Cup will be on on Sunday, November 24th in Regina, Saskatchewan.
Vancouver has recently been announced as the 2014 host.
REMEMBERING IVOR WYNNE STADIUM
Saturday, October 27th 2012 marked the last Tiger-Cat game at Ivor Wynne Stadium. From it's beginning in 1930 as Civic Stadium, built for British Empire Games, the field has played host to over eight decades of Hamilton football.
The Tiger-Cats defeated the Blue Bombers 28 - 18 in front of 29,722 rain soaked fans.
The All-time Tiger-Cat team was announced pre-game and the 1972 Grey Cup Championship team was introduced at half-time. Post game activities included a look back and words from several Alumni.
The Alumni lounge was packed as many former players reminisced over a few cold beers for the final time at the stadium.