Prints & Autographs
Prints & Autographs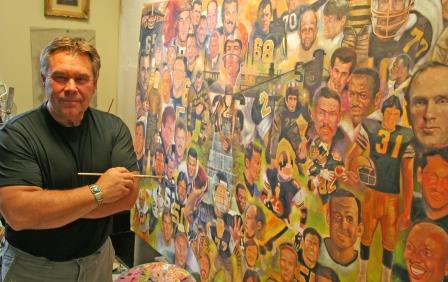 The Alumni have partnered with a renowned sports artist Gary McLaughlin to recognize 75 of the best players to wear a Hamilton uniform.
The painting depicts all of those players inducted into the Hall of Fame Wall of Honour, the Walk of Fame and the recently named All-time team." View the print here!
In recognition of the 145th consecutive season of football in Hamilton in 2014, a limited edition set of 145 high quality prints were created. Each print is individually signed by 26 of the 75 Alumni depicted in the painting. Each print comes with a legend and Certificate of Authenticity.
This the ultimate Tiger-Cat Collectors item! Autographed prints sell for only $100 and are available for purchase online or email us to arrange local pick-up..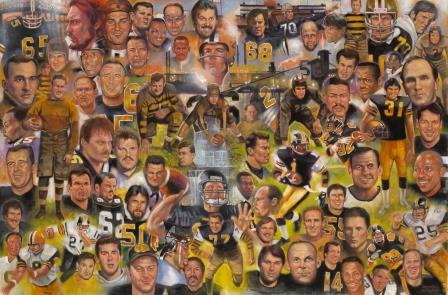 Unautographed poster of print alone is also available for only $20. Measures 16" x 24" Get yours today!
HTCAA - SIGNATURE ARTWORK
HTCAA - SIGNATURE ARTWORK
The Tiger-Cat Alumni Association has preserved the past with this unique "Signature Piece". Photos were taken of all the signatures from the walls of the old "Green room" at Ivor Wynne Stadium. Each signature was identified and verified before being placed on this special recreation.

Signatures go back as for the 1940's and include names like Ralph Sazio, Jim Trimble, Angelo Mosca, John Barrow for a total of 165 signatures.
Reproduced high quality framed Giclee on canvas prints measuring 2' x 2' can now be purchased online for just $300 including shipping. Please order below.